Date: 2020. Feb. 4th In 2019, the Beverage Industry Environment Beautification Association's (BIEBA) President Award was given to Takunan Junior High School for its long-term community clean-up efforts. BIEBA* consists of six companies and started awarding prizes from 2000. All elementary and junior high schools are eligible to enter. 
*BIEBA(Beverage Industry Environment Beautification Association)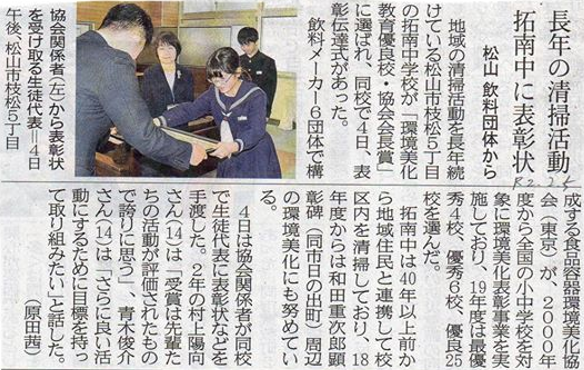 BIEBA selected 4 schools for the President Award, 6 schools for excellence award, and 25 schools for prize of excellence. Takunan Junior high school has cleaned up the local community for over 40 years. From 2018, they started to clean up around Wada's statue (Ishite River bank area, Hinode). The delegation from BIEBA handed the President Award to the class representatives (Ms. Murakami and Mr. Aoki; pictured)
Ms. Murakami was proud of their long-term clean-up efforts which had spanned 40 years and Mr. Aoki wants to improve clean-up efforts.