Inquiry
Jujiro Wada, an experienced musher widely known in Alaska. Our mission is to honor and pass on his accomplishments and filial duties to the next generation.  If you have any inquries (eg. photos, articles and any other information), please do not hesitate to contact us.
Information wanted
Please provide us any information or artifacts regarding the following persons.
Henry Havelock Norwood, born in1859 in Berwick, Nova Scotia and died in Sonoma California.  Captain Norwood had spent time on the Arctic Whaler "Balaena" and taught Wada to speak English, nautical skills and navigation.  Wada made good use of thsese skills during a long adventurous life in Alaska.
Children
Leila A Norwood Bergeron
1893

–

1946

 

 

 

 

 

 

 

 

 

Alfred Lowell  of the Frank Lowell family

The Seward Chamber of Commerce sought out Wada to scout a route to the gold fields and mark the Iditarod trail.  Working with companion Alfred Lowell, Wada accomplished this in in a matter of weeks, setting off another stampede. The southern portion of the modern Iditarod Trail Sled Dog Race follows the course Wada pioneered.

McDonald

Partnered with Wada, and as he left for the US, Wada and "Mac" McDonald divided all of their property. From 1936 to 1937  Wada spent his time and money trying to locate Mac, who was rumoured to have moved to San Francisco. If anyone information, about the first name of McDonald, the time of his death, and whether he is related to Klondike miner Alex McDonald, we would like to learn the details. And in case anyone knows abou photographic material of Mac, your contact and help is very much appreciated.

Ernest Blue

A lawyer in Juneau from 1913-1933, from Salem, OR, with a passion for mining. He went to Fairbanks in 1907, and met Wada in 1937 in Redding, CA. Mr. Blue went on to do tunneling for the Shasa Dam. In 1943 Mr. Blue testified to the character of Wada, dismissing any possibility that Wada might have been a spy. In case anyone can share photographic material of Mr. Blue, your help is very much appeciated. 

Frank Cotter

One member of the Iditarod party was reporter Frank Cotter, a lifelong friend. He remembered how one night, Wada looked out at the view and said, "This is my country, Frank. I hope to live and die here."  Cotter called Wada "the most indefatigable musher" I have ever known and the peer of any man who ever wore a snowshoe in Alaska." 

"WADA AS I KNEW HIM" Written by Frank Cotter:  San Fransisco's The Japanese – American Courier, publishes a weekly article  over three weeks in the month of June, depicting the life of Jujiro Wada. 

John Noon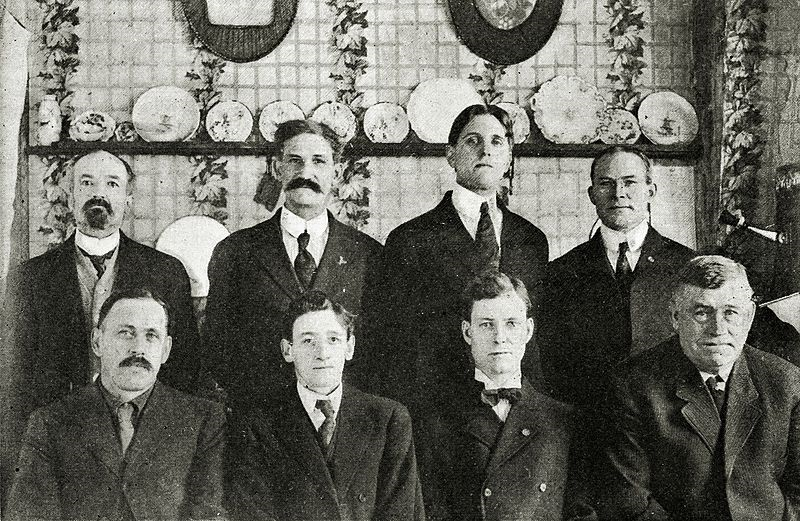 John Noon, the Treasurer of Seward Commercial Club, is pictured bottom right in this photo with other officers from 1911