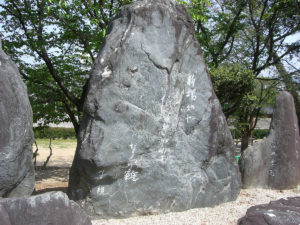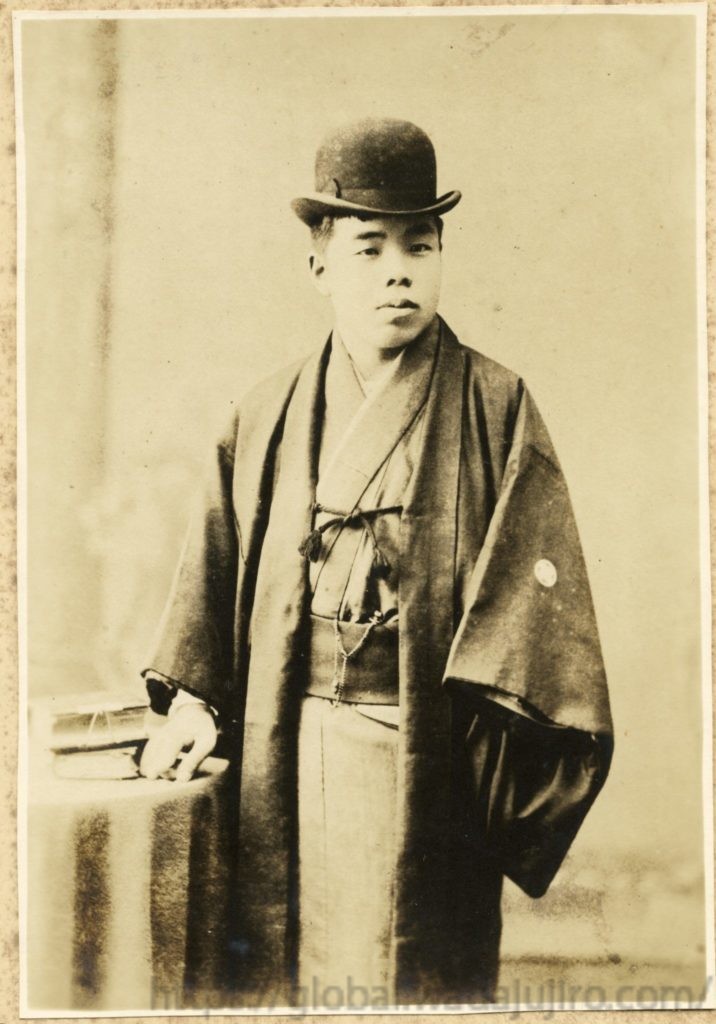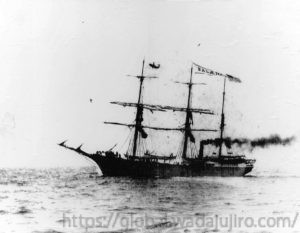 1875 (Meiji 8)
Born as the second son of father Gempachi Wada (Samurai in Former Komatsu ward) and mother Setsu in Saijo, Ehime.
1879 (Meiji12) 4 yrs.
After father Gempachi died of disease, moved to Matsuyama (Present Hinode town) where his mother's parents' house was.
1887 (Meiji 20) 12 yrs.
1892 (Meiji 25) 17 yrs.
With a big ambition "Be a Sumitomo", smuggled into the United States.
After landing in San Francisco, worked on board the Whaling support ship "Balaena" for the follwoing three years around Northern icy ocean, gaining  knowledges of English and geology from Henry Havelock Norwood.
1894 (Meiji 27)
<Sino-Japan War occurred>
1895 (Meiji 28)
Wada worked at the Cape Smyth Trading post with the legendary Charles Brower.  It was said that he learned his dog mushing skills there.
1896 (Meiji 29) 21 yrs.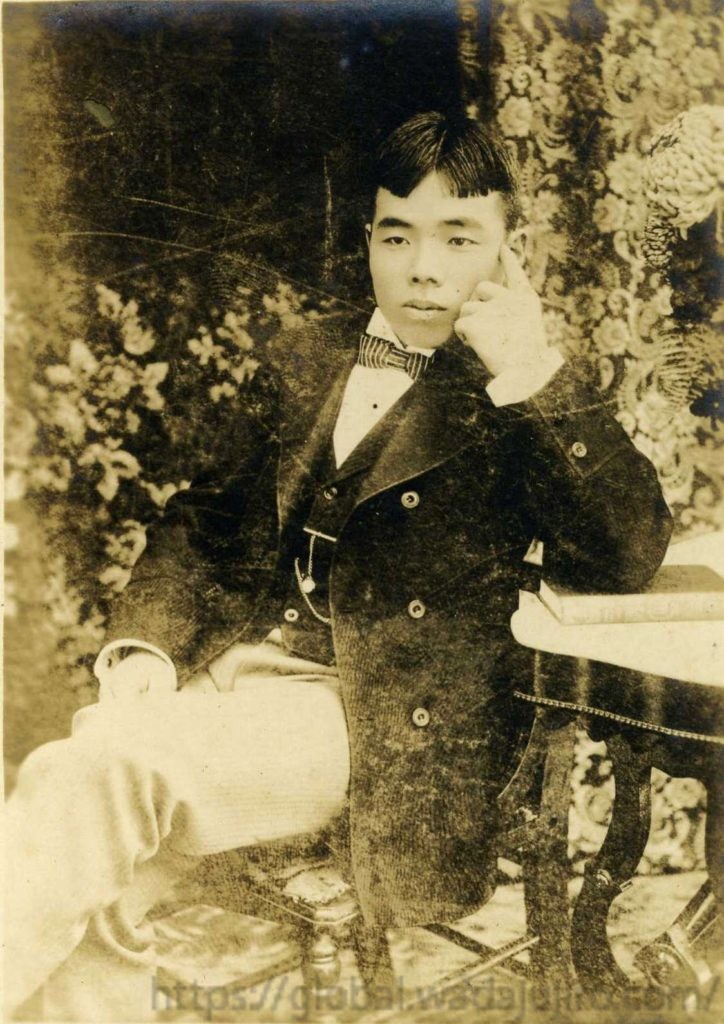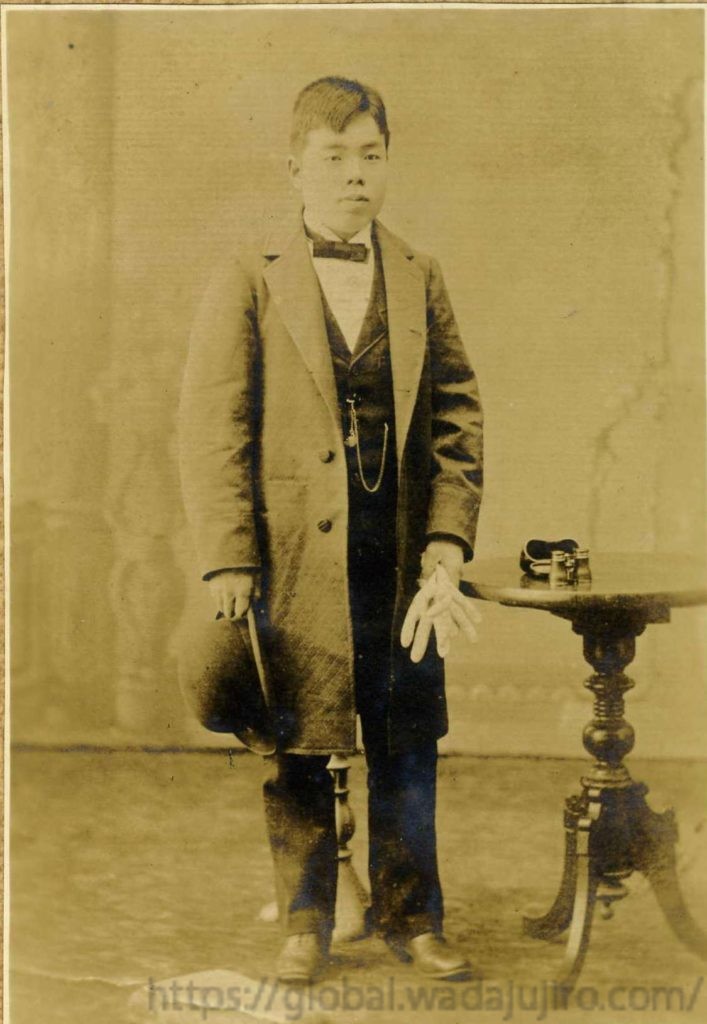 Temporary return to Japan, devoted his loyal mind to his mother.
1897 (Meiji 30) 22 yrs.
Got back to Alaska, exploring the unbeaten tracks in the North Pole area that even an Eskimo feared of, became an expert of dog sled manipulation and hunting.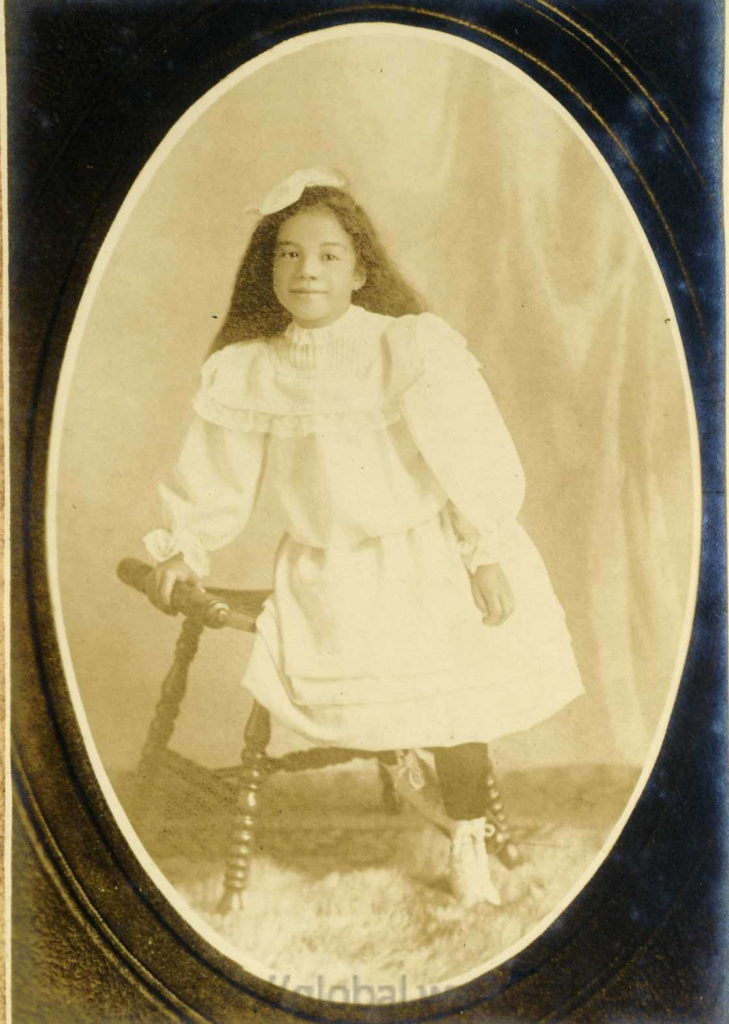 1900 (Meiji 33) 25 yrs.
Helen Wada Silverira, A daughter of Wada, was born and lived in San Francisco.            
1903 (Meiji 36) 28 yrs.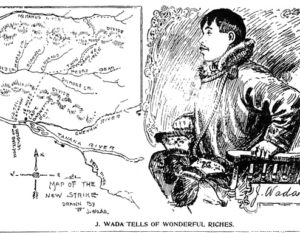 Tried finding gold mines in Alaska and Canada Working for fur trading.
Discovered a gold mine in Tanana Plain and went Straight ahead to Dawson in Canada to apply for the registration, when the incident was reported on a newspaper. Soon a crowd of people rushed to Tanana Plain to look for the gold mine, resulting in the notable "Tanana Stampede" outbreak.  Wada was with E.T.Barnette when the businessman landed at what is now the site of Fairbanks.
Co-founder of Fairbanks
An article in the Dawson Daily News, July 8, 1912, mentioned Wada's legendary predicament: "Jujiro Wada, the mushing Jap who brought the first news of the Fairbanks strike to Dawson, and has made numerous other trips in the North, recently blew into Fairbanks again with a new story about the placer country of Western Alaska. The Times says: Ten years in a placer camp is a long, long time, more than five or ten times that number of years in an older community, where things move more slowly and the population does not come and go with such kaleidoscopic changes. Thus, the return of Jujiro Wada to Fairbanks might be likened almost to the return of one of the Pilgrim fathers to Plymouth, in point of the changes that have taken place in Fairbanks and the generations (placer camp generations) that have come and gone since he first visited the section and then mushed overland to Dawson ten years ago, with the news that caused the Fairbanks stampede. "
1904 (Meiji 37)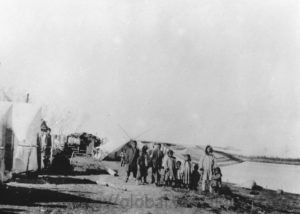 <The Japan-Russo War broke out>
1906 (Meiji 37) 31 yrs.
Became a king to control three villages of Eskimo as he was dedicated to the improvement of their indigenous life.
1907 (Meiji 40) 32 yrs.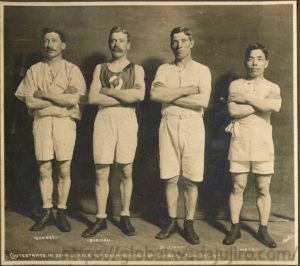 Won the in-house marathon of 50 miles (80 kilometer) in Norm consecutively and admired as "The Great Wada".
Wada estimates that the distance traveled through Alaska and Yukon by dog-sled is 44,000 km. ( Seattle Post Intelligencer on June 5, 1908)
1908 (Meiji 41) 33 yrs.
Starting from Dawson no one had ever reached before, explored 5,000 miles (8,000 kilometers) coastline of the Arctic sea by a dog sled, which was reported on a newspaper broadly.
1909 (Meiji 42) 34 yrs.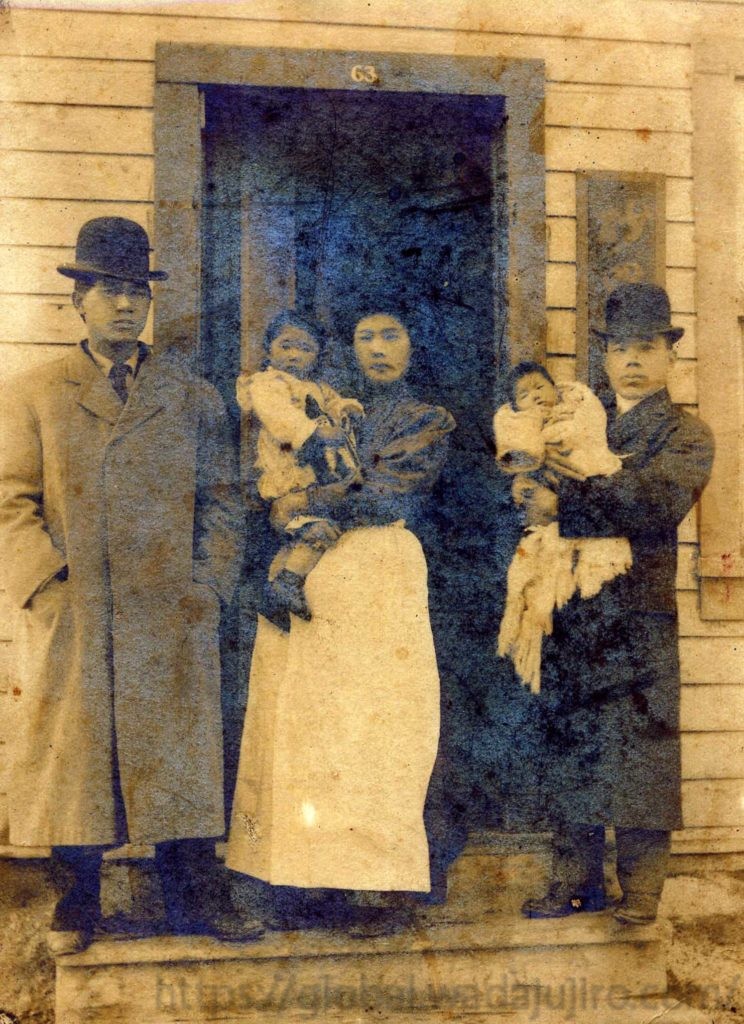 4th Avenue, Seward, Alaska

Being asked by Seward Chamber of Commerce to develop the trail from Seward up to Iditarod mine, researched with thirty dog sled parties. Thanks to that trail, a lot of people's lives were saved since carrying the blood serum on the dog sled was made possible when diphtheria broke out in Norm in 1924.
Wada forged a relationship with Sunada family, who lived in Wyoming and introduced Japanese immigrants to jobs. 
Who Discovered the North Pole?  The great Cook and Peary debate.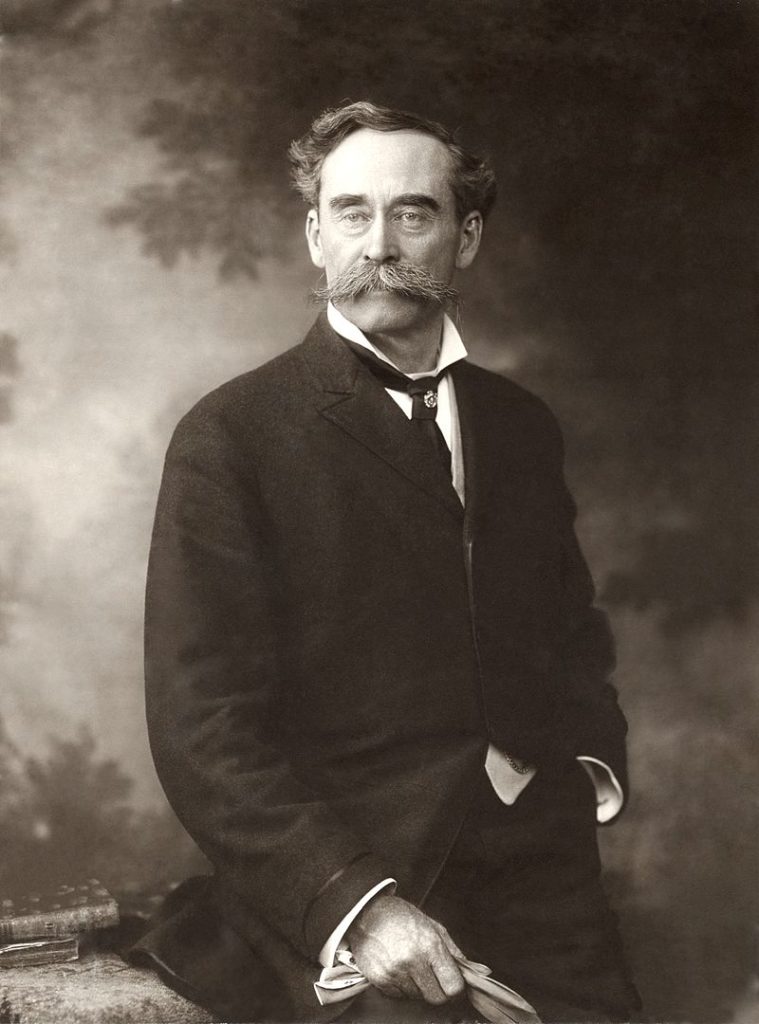 Both Frederick Cook and Rober Peary claimed to have gotten there first.  Together they inspired a bitter and never-ending controversy about who is the real Columbus of the Arctic
Wada's interview was posted The Seattle Daily Times (1909/9/18)
"  xxxxx xxxxxxxxxxx xxxxxxxxxxx xxxxxxx  "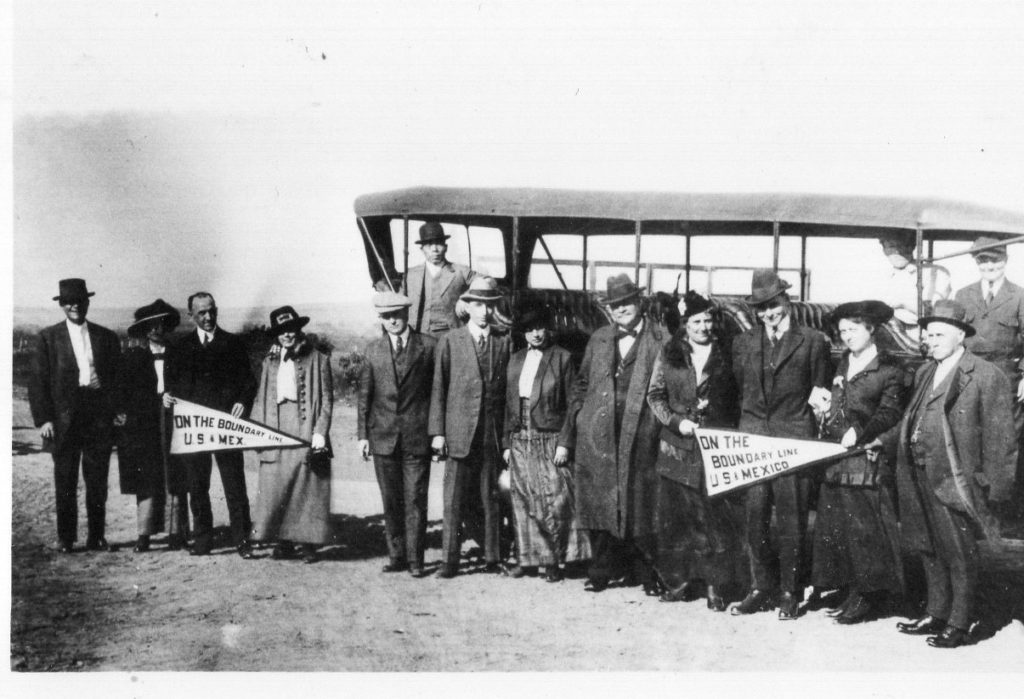 1912 (Taisho 1) 37 yrs.
1913 (Taisho 2) 38 yrs.
Co-worked with King of Tabasco, E. A. McIlhenny.
1914 (Taisho 3) 39 yrs.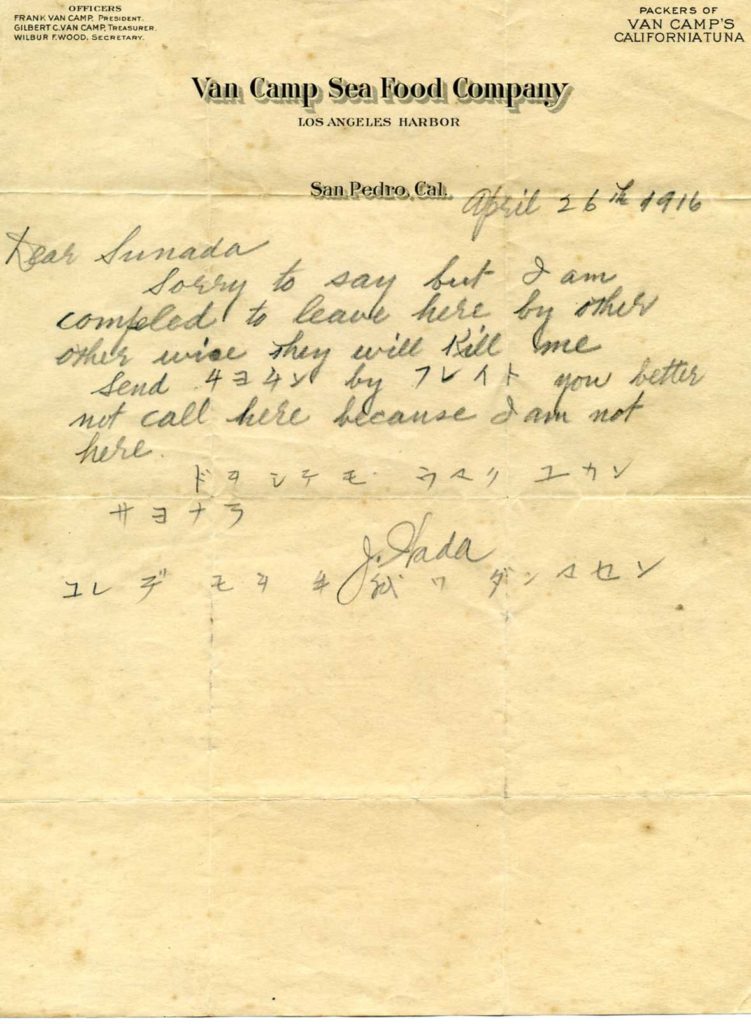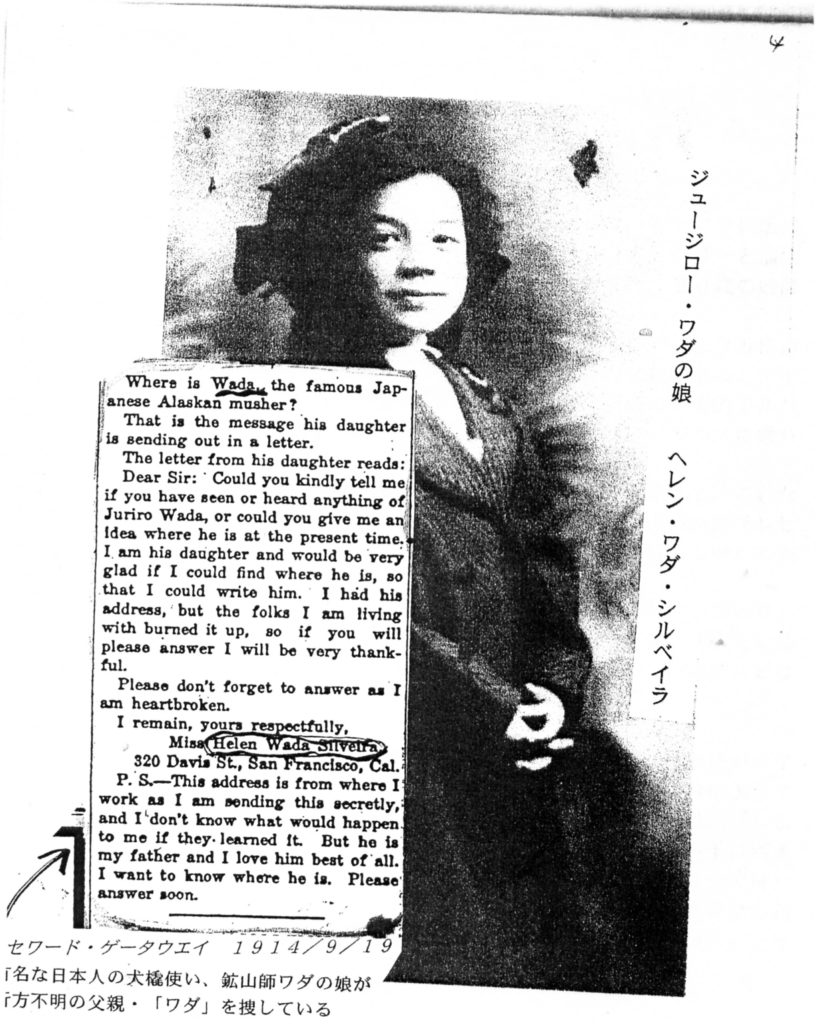 <World War I broke out>
As a rumor that Wada was a spy spread, he went into hiding.  Wada's family in Japan lost touch with Jujiro until 1925.
The letter says "Dear Sunada, Sorry to say but I am compeled to leave here by others.  Otherwise, they will kill me ….." (1916.4.26)
His only daughter Himeko filed a missing person's report on a newspaper.
1920 (Taisho 9) 45 yrs.
cross the Mackenzie river for investigate oil field

Jujiro 46 years old

Fearing that he will be captured if he stayed in the U.S., he starts to primarily live in Canada. During this time, he became a researcher of oil mine for the government of Canada, explored the Arctic area along with the whole watershed area of the river Mackenzie. 
1933 (Showa 8) 58 yrs.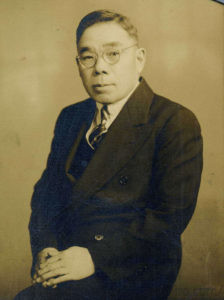 Mother Setsu passed away on August 15 in Hinode town, Matsuyama.
1937 (Showa 12) 62 yrs.
Passed away on March 5 at San Diego hospital in the U.S., when he carried only 53 cents with him.
2007 (Heisei 19)
His memorial monument, bust and literary monument were built in Hinode town where he grew up.